April 17,2018
Press Contact:
202-224-4515, Katie Niederee and Julia Lawless
Tax Day 2018: Hatch Touts Benefits of Tax Reform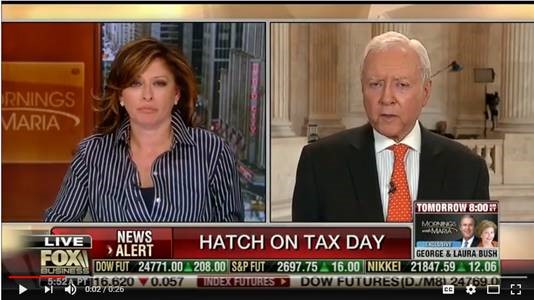 WASHINGTON – Senate Finance Committee Chairman Orrin Hatch (R-Utah) joined Maria Bartiromo on her Fox Business show Mornings With Maria this Tax Day to discuss tax reform, the deficit and current negotiations regarding the North American Free Trade Agreement (NAFTA) . He also touted tax reform's benefits at the weekly Republican Senate Leadership press conference.
Today marks the last day that Americans will file their taxes under the old, broken system. Highlights below:
On tax reform:
"Well, take the average family of four, say earning $73,000 a year. They'll have a $2,000 tax cut beyond what they're paying this year. And, others will save. It's really a major, major change to the tax law that we think will be pretty good."
On tax reform's impact on economic growth:
"We're hopeful that these cuts in taxes will cause people to save more, invest more, do more with their money, and of course, actually make the economy even better."
On the nation's crippling deficit:
"I think the president has to take the lead because the Congress is never going to do it unless it has presidential leadership behind it as well. We're going to have to start getting serious about spending."
On NAFTA:
"Well, we know if we don't protect copyright we're losing one of the great assets of our nation. And the rest of the world needs to get with it with regard to protections of copyrights and the various royalties that come from that…"
"I think we have to be very careful with NAFTA – I'm very concerned about some of the approaches that the administration has raised with regard to NAFTA and it could cause us an awful lot of difficulties…I just hope the president will really look this through very carefully, and work with us and we'll come up with a system that will work pretty well.
Click here to watch Hatch's interview on Fox Business. Click here to watch Hatch's remarks at the weekly leadership press conference.
###
---
---
Next Article
Previous Article