June 15,2017
Obamacare's Failures: By the Numbers
The status quo of the American healthcare system is anything but encouraging. High costs and collapsing coverage serve as reminders of an unaffordable and unworkable law that is failing before our eyes.
Almost daily, another report, study or headline emerges pointing to one undeniable fact:
Obamacare is failing, the status quo is unacceptable, and Americans deserve better.
American families and small businesses deserve access to quality, affordable care. Instead, Obamacare has already delivered nearly a trillion dollars in taxes and burdensome mandates while healthcare choices and coverage continue to diminish.
Republicans recognize that the time is now to repeal and replace this disastrous law and are focused on efforts to put forth policies that address costs, bring down skyrocketing premiums, and put the American people back in charge of their health care.
The proof of Obamacare's failures is undeniable. Here's a look by the numbers:
Under Obamacare, the American economy took close to a $1 trillion hit – ultimately borne by patients and consumers in the form of higher costs and larger tax bills.
More than 1,000 counties throughout the United States may be left with only one insurer in 2018.
A recent study noted that of consumers who terminated their health coverage, 27% cited cost and unaffordability as the number one reason.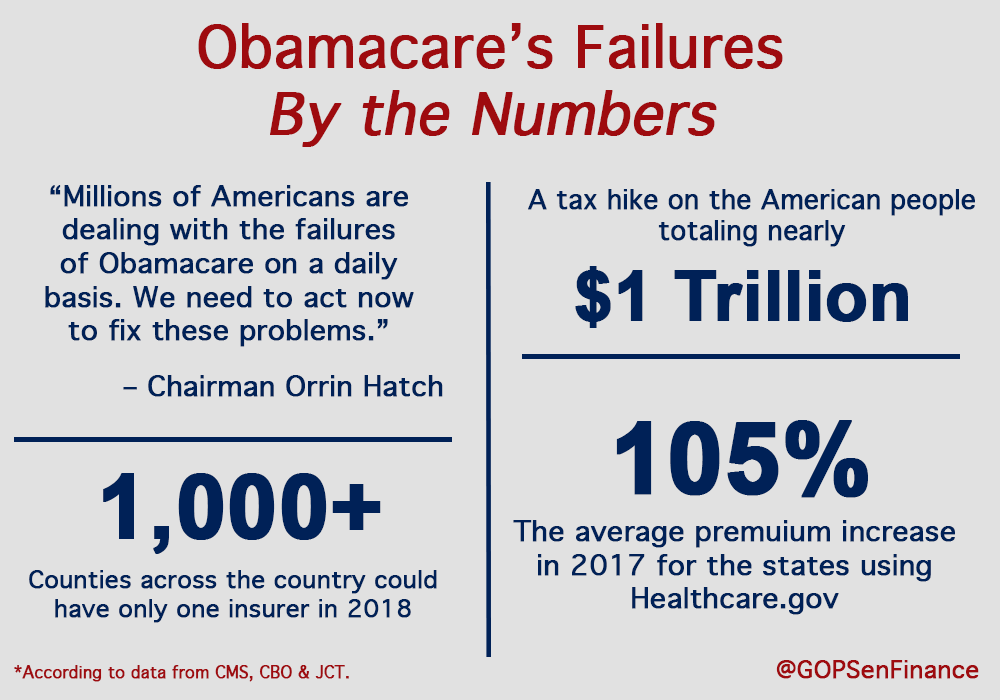 ---
---
Next Article
Previous Article